Can I delete communications from my friend's phone?
RakEM is a very powerful app and you are the master of your data.
You can delete your conversation in part or in full from your friend's phone
Before its read by your friend or after it is read by your friend.
You can delete your conversations from any or all of your friend's phones.
What about pictures/videos I sent in a message? Are they deleted as well?
Once the picture/video sent using chat is viewed it will automatically delete itself.
How to delete part of a message or full conversation?
Don't suffer from text regret.
Go to the Recent (middle button on the bottom menu) you will see the list of the users you have been chatting with. Top right hand corner of each user listed is an "x" mark, tap on it and it will open the delete message tab. Here you can either delete the entire chat session (delete all) or delete selected message (delete selected chat bubbles)
What do you mean by Text Regret – retracting your word?
Imagine scenarios:
Because we are guided by our emotions, we all are guilty at one time or another of saying things too fast which we regret later. Deleting the conversation in part of in full before it is read or after it's read from your friend's phone will eliminate the regret you might have had.
You need to send sensitive information like credit card number. You then can delete it from your friend's phone to make sure nobody else can ever see it. And because the conversation is also encrypted on RakEM your privacy is fully assured.
In business you might need to chat about private sensitive investment opportunity. Deleting the conversation in full or in part from your business partner's phone later on will ensure nobody else can read it by mistake.
Finally for those of you enjoying the thrill of sexting, you can send your risqué picture to your love one and be assured it delete itself automatically as soon as your loved one views it. If you send a sexting risqué text, you can delete it any time before or after it's viewed. That's how much control RakEM gives you.
Total Recall button – how do I do it?
We also call it a Panic button.
Now this is the ultimate power for the user of RakEM. Yes, there is a panic button in the RakEM app. It is the only red button in the whole app and it's located in the Settings screen. By taping this button (don't worry RakEM asks you in a popup if you are sure) you will clean any and all of your communications history from your phone but also from ALL your friends' phones. We will leave it to you to think of situations you might need this feature, but when you do, know it's there to be used – Total Recall (take back from your friends phones everything you ever sent with one tap ;)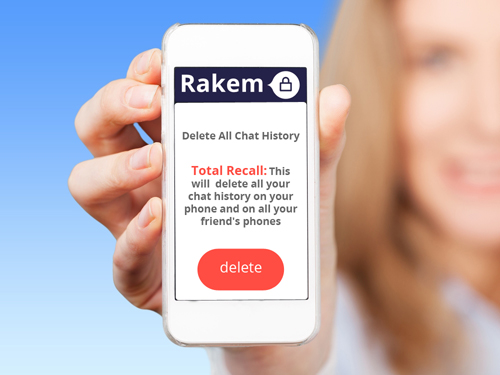 How do I send picture/video/file so it stays on my friends phone to be viewed anytime later?
If you want the pictures/video/files to stay on your friend phones, just send them via attachment. Any file send via attachment will not be deleted from your friend's phones. If you double tap or tap hold any text or photo you can always delete it. However, this only removes that text or photo from your phone. This does not affect the recipient's phone.
Why the picture/video I just have seen in my text window is gone?
That is one of the privacy feature of RakEM. As soon as you view picture or video sent to you and leave the chat screen these files are no longer available to be viewed.
Can I take a screenshots?
No, you can not take screenshots of the app.
Can i group chat?
Yes, you can group post and group live chat.
What's the difference between Group Post and Group Chat?
Once you have setup your groups (from the group tab, Manage button), you can post to your group or start a live chat. Posting to your group allows you to send a text, picture, video, emoji, etc. to each member of your group with one tap all at once – they receive the group post like a message that is sent directly from you to each member. Group Live Chat, on the other hand, allows you to start an interactive live group chat session, where all members can chat with each other in real-time. All members can send text, pictures, videos, emoji, etc. to all other members in the live session, and they can respond. Both group post and group live chat are encrypted and private.
Can I block someone?
Of course you can. Block a contact and you will never hear from them again. If you have a change of the heart later, just unblock the contact. The easiest way to block a contact is to long-hold tap on the 3 "dots" on the right hand side of contact you want to block. A popup slides over with contact actions – choose Delete, and the contact is deleted from your contact list. If you wish to add them back again, go to Search (Find Friends), enter their phone number or RakEM ID, press search, and tap on them when they show up in the search list.
How to use location sharing?
The users have to turn on sharing their location in order to be listed in the first place. To share your location, turn on "auto update location" in the settings of RakEM app. Only your approved contacts will then see you and you see them if they are sharing their location. You can also send a direct location share from either being in a chat with the contact, or choosing Share Location from the contact actions popup.
Are all languages supported in the chat ?
Yes, we included support for all languages in the chat screen.